Free Tax Saving
Strategies Course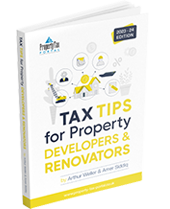 Tax Tips for Property Developers and Renovators (New 2023-24 Edition)
This easy to read tax busting guide is for anybody who is considering or is already involved in property development or renovation.
In this unique guide, Lee Sharpe takes you step-by-step through the different types of property development and renovation tax saving strategies.
He explains how you can avoid the most common tax traps that investors fall into and identifies ways of legitimately lowering your tax bill.
The guide includes over 44 practical case studies which demonstrate the key points you need to consider before embarking on any development or renovation project.
What will the guide tell me?
Amongst so many other things this easy to read guide will show you how to:
Avoid property trading fines.
Slash tax on your development and renovation projects.
Calculate your trading profits and the taxes due.
Benefit from the favourable company taxes.
Accumulate income within your trading company.
Avoid £3,000 penalties by registering for the 'Construction Industry Scheme'.
Dramatically reduce your taxes by claiming all alowable expenses.
Boost your profits by claiming capital allowances.
Benefit from pseudo property dealing.
Avoid tax when developing your own home.
Increase the value of your own home and avoid future taxes.
Boost your profits by claiming the Landlords Energy Saving Allowance.
Distinguish between income and capital costs.
Avoid tax when selling large gardens or grounds.
Reduce tax by using 'modern materials'.
Save tax by claiming 'Flat Conversion Allowances'.
Finance property developments in a tax efficient way.
Beat the taxman when investing in Furnished holiday accomodation.
Slash your tax when investing in commercial property.
Benefit from business taper relief when holding business assets.
Gift assets and still benefit from taper relief.
Avoid stamp duty when gifting property.
Avoid being caught out by 'linked transaction' sales.
Plus much,much more….
Who is the guide for?
Property Investors & Landlords - Anyone who is either just starting out in property investment or who already has a property portfolio. This includes:
Property developers and renovators
Buy-to-let owners and landlords
Commercial property owners
Accountants & Tax Specialists - This book can be invaluable to you when advising clients on property taxation matters.
Testimonial
Excellent guide! I have applied just one of the tips and it has already paid for the guide 10 times over, yet there are still so many more tips to go through. This is defiantly one of the best investments I have made in a long while.
I'd definitely recommend this to anybody who wants to apply simple practices to pay less property tax.
Gary Agar
http://www.jomongee.co.uk/

Read other testimonials

Author, Lee Sharpe, is a UK leading Tax Specialist.
Click on the button below to view the full contents of the guide.
View Contents
Key features
114 pages of
easy to read
information
Over 44 practical
case studies
Tax tips/strategies
and secrets for all
kinds of
development and
renovation projects.
Written by leading
UK tax specialist
Lee Sharpe
Contents
Click here to view the full contents of the guide now
30 Day
Money Back
Guarantee
No ifs, no buts no
questions asked, we'll
refund your money.
Just let us take
all the risk!
Order this guide now!
beat the taxman and boost your property profits!